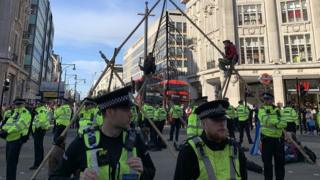 A police ban on Extinction Rebellion protests in London last month was unlawful, High Court judges have ruled.
The Metropolitan Police imposed the ban, which prevented two or more people from the group taking part in protests, under the Public Order Act.
But judges have ruled that police had no power to do this because the law did not cover "separate assemblies".
Activists say the police could now face claims for false imprisonment from "potentially hundreds" of protesters.
The Met said it would "carefully consider" the ruling.
The protests cost £24m to police and led to 1,828 arrests, with 165 people charged with offences, the Met says.
During the court hearing, the force had argued that the ban was the only way to tackle widespread disruption.
Announcing their judgement, however, Lord Justice Dingemans and Mr Justice Chamberlain ruled in favour of Extinction Rebellion.
Lord Justice Dingemans said: "Separate gatherings, separated both in time and by many miles, even if co-ordinated under the umbrella of one body, are not a public assembly within the meaning of… the Act.
"The XR [Extinction Rebellion] autumn uprising intended to be held from October 14 to 19 was not therefore a public assembly… therefore the decision to impose the condition was unlawful because there was no power to impose it under… the Act."
The judges noted that there are powers within that act which may be used lawfully to "control future protests which are deliberately designed to 'take police resources to breaking point"'.
During 10 days of climate change protests last month, activists shut down areas around Parliament and the Bank of England, and targeted London City Airport.
Police had previously warned protesters to keep demonstrations in Trafalgar Square, or risk arrest – before issuing a city-wide ban on 14 October, under Section 14 of the Public Order Act.
The court was told that the ban was issued on the same day as a message posted online by London activists.
It told protesters to adopt the "be water" tactics used by demonstrators in Hong Kong.
"Be water, crowds split up into fast moving groups and pairs, that network via phones," it said.
"You gather at particular spots in large numbers, until the police response building then you move to a new disruptive site."
The ban was lifted four days later, with officers saying that it was no longer necessary because demonstrations had ended.
Analysis
BBC home affairs correspondent Daniel Sandford
This was a radical tactic adopted by the Metropolitan Police on 14 October – banning all future Extinction Rebellion protests across London for several days.
But it has backfired. No police force likes to have their actions described as "unlawful".
Today's High Court ruling takes away from officers the ability to impose a city-wide ban of future protests, which means demonstrators wanting to be "like water" – where they split into fast-moving groups – will be difficult to control if they are trying to disrupt a whole city.
So police will have to deal with what is in front of them.
If a specific protest in a specific place gets out of hand they will be able to close it down, but it will have to be a decision made by an officer on the spot, and not by someone sitting in a police station worrying about what protests may happen the next day.
Responding to Wednesday's ruling, Extinction Rebellion UK tweeted "we won't be silenced".
Green Party peer Jenny Jones – who was among those to bring the legal challenge – described the ruling as "historic" and criticised ministers for speaking out in favour of the ban.
Met Assistant Commissioner Nick Ephgrave said the decision to impose the ban had been "reasonable and proportionate" and "was not taken lightly".
He added that the police "would not and cannot ban protest" and that the ruling was made specifically on whether officers could arrest demonstrators for assembling in central London.
"There is no criticism from me of the decision to impose the condition, which was made with good intent and based upon the circumstances confronting the command team at the time," he said.
"It did in fact result in the reduction of the disruption. Nevertheless, this case highlights that policing demonstrations like these, within the existing legal framework, can be challenging."
What does Extinction Rebellion want?
Extinction Rebellion's legal victory follows two weeks of protests in the UK last month.
The group (XR for short) wants governments to declare a "climate and ecological emergency" and take immediate action to address climate change.
It describes itself as an international "non-violent civil disobedience activist movement".
Launched in 2018, organisers say it has groups willing to take action in dozens of countries.
It uses an hourglass inside a circle as its logo, to represent time running out for many species.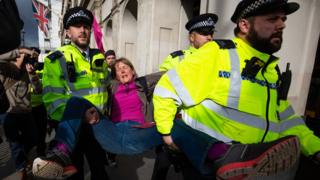 Extinction Rebellion activists intending to continue protesting in central London "must" go to Trafalgar Square or risk arrest, police have warned.
Police enforced a Section 14 notice to stop "serious disruption" to communities, after officers removed those camped out in Westminster.
Police have made 541 arrests over the two days of protests.
The prime minister has described the activists as "uncooperative crusties".
But campaigner and TV presenter Chris Packham said they are "the concerned people of the world."
Extinction Rebellion activists are protesting in cities around the world, including Berlin, Paris, Amsterdam and Sydney, and are calling for urgent action on global climate and wildlife emergencies.
Protesters say they are occupying 11 sites in central London and people have travelled from across the UK to take part in the demonstrations.
Activists glued themselves to a government department and to the underside of a lorry outside another.
A protester who attached himself to the top of a trailer with a bike lock for more than 28 hours in Trafalgar Square was arrested and removed from the area by five police officers.
The Metropolitan Police said at 21:30 BST on Tuesday there had been 541 total arrests over the two days, including 261 on Tuesday.
Police have enforced a Section 14 Notice of the Public Order Act 1986, forcing those who wish to continue protesting to move to the pedestrianised area around Nelson's column in Trafalgar square.
Anyone suspected of breaching the condition – which has no time limit – could be arrested and prosecuted, police said.
A Section 14 order allows the police to impose conditions on a static protest – where campaigners are gathered in one place, rather than marching.
To impose the condition, police must have evidence that serious disruption is being caused to communities.
Activists have attached themselves to the underside of a lorry, which is blocking the road outside the Home Office.
The vehicle is parked on Marsham Street, where hundreds of protesters set up camp overnight. One activist climbed on top of the lorry and set up a tent.
There was a large police presence in the area on Tuesday, with pictures showing officers removing activists from the lorry.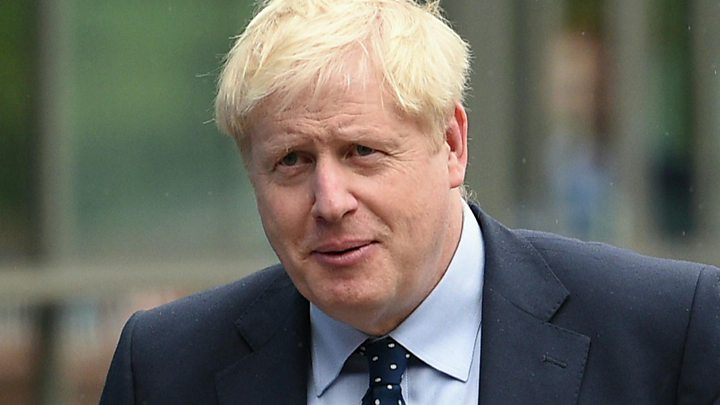 Protesters have also glued themselves to the Department for Transport building – a tactic used in similar protests in April.
Two activists have attached themselves to the doors of the building, while others demonstrate outside.
Meanwhile, a group have placed 800 potted trees outside Parliament, in Old Palace Yard, as they call on the government to plant billions of trees across the UK.
Trees have been dedicated to MPs, and protesters hope they will use them to reforest the country.
Sean Clay, 36, from Newcastle, told the BBC: "Planting trees would go a long way to restore the habitats we have lost as well as absorbing carbon emissions."
Asked about Boris Johnson's description of demonstrators, Packham told the BBC's Victoria Derbyshire programme: "I was there yesterday. I met farmers, I met teachers, I met scientists, I met lawyers, I met grandparents, I met mothers and fathers, and I met children.
"These are the concerned people of the world."
Mr Johnson had suggested while attending a book launch on Monday that the demonstrators should abandon their "hemp-smelling bivouacs" and stop blocking roads.
Protester Claudia Fisher, 57, from Brighton said campaigners would like to discuss their views with the prime minister.
Responding to his description of activists as "uncooperative crusties", Ms Fisher said: "We are a little bit crusty, I'll put my hands up to it, after a night sleeping out on the grounds of Whitehall, but we're not uncooperative.
"We're actually very co-operative. We… would really like to hear what he has to say, and we'd really like him to… hear what we have to say."
John Curran, a 49-year-old former detective sergeant for the Metropolitan Police, was one of the protesters who camped overnight.
Mr Curran, who has a three-year-old daughter, says he was arrested while protesting with Extinction Rebellion in April, and is willing to be arrested again.
He said: "Clearly there is some frustration (for the police) that they probably have better things to be doing, and I agree, but the responsibility for that must lie with the government.
"Take action, and we won't have to be here."
Activists camped at Smithfield Market overnight, but say they allowed traders to operate.
'This is a last resort'
By Becky Morton, BBC News
There is a festival atmosphere in Westminster as Extinction Rebellion activists emerge from their tents to stage a second day of protests in central London.
The roads around Parliament – normally full with traffic – are instead dotted with encampments of tents, gazebos and makeshift food points, where hundreds of protesters from across the country spent the night.
Volunteers serve bowls of porridge from a truck, while others bang drums and join sing-alongs.
Read Becky's full report here.
In an update at 17:44 BST on Tuesday, Transport for London (Tfl) said road closures included the Strand in both directions between Lancaster Place and Trafalgar Square; Trafalgar Square itself and Whitehall in both directions.
Also closed are Parliament Square; Marsham Street; Horseferry Road; and Millbank in both directions between Parliament Square and Horseferry Road.
All bridges remain open, however there is no access from Westminster Bridge into Parliament Square.
Extinction Rebellion claims protests in the capital will be five times bigger than similar events in April, which saw more than 1,100 people were arrested.
What is Extinction Rebellion?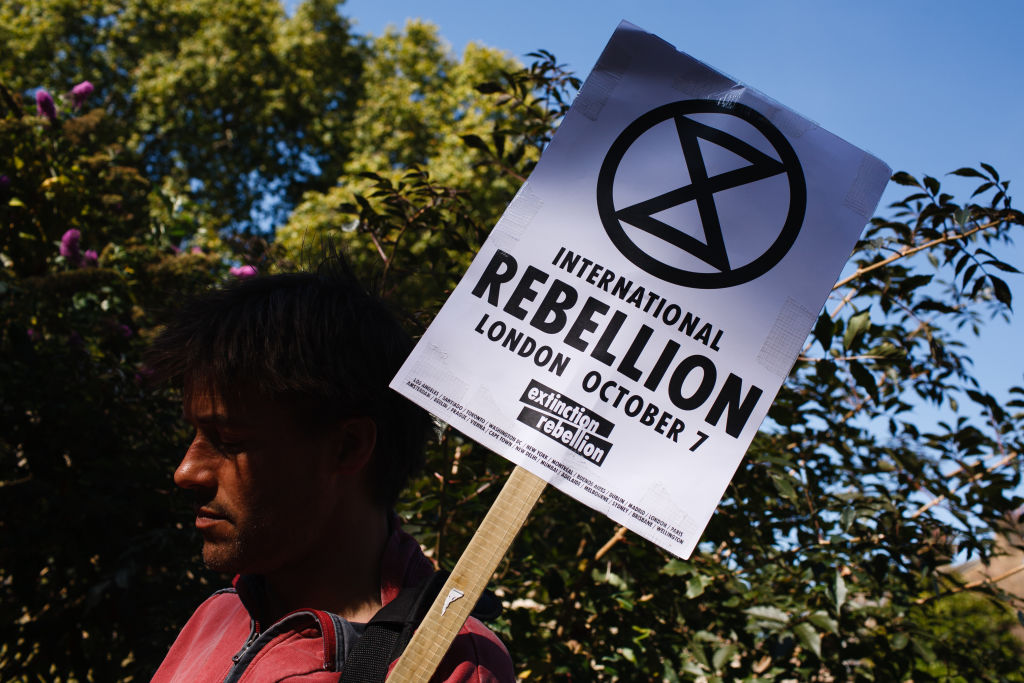 Getty
Extinction Rebellion facts
2025year when the group aims for zero carbon emissions

298,000followers on Facebook

1,130people arrested over April's London protests

2018year the group was founded
Source: BBC Research
Extinction Rebellion (XR for short) wants governments to declare a "climate and ecological emergency" and take immediate action to address climate change.
It describes itself as an international "non-violent civil disobedience activist movement".
Extinction Rebellion was launched in 2018 and organisers say it now has groups willing to take action in dozens of countries.
In April, the group held a large demonstration in London that brought major routes in the city to a standstill.